Call toll free 877-4ABOLISH
877-422-6547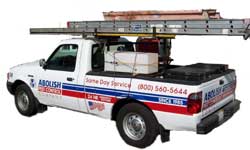 Hidden Valley Pest Control
Services Provided:

Swallow's Nest Removal/Proofing

Rat and Mouse Control/Proofing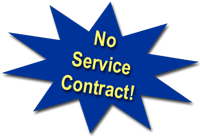 Insulation Decontamination, Removal and Installation
Why You Should Choose Abolish
Attic, Basement, & Crawlspace Decontamination
Animal Pest Feces Clean Up and Decontamination
Parking Garages and Parking
Structure Decontamination
and proofing
Servicing Hidden Valley and other nearby cities in Killer Bees, Pigeons, Snakes, Crickets, Ants, Earwigs, Rats, Bats, Gophers, Fleas, Mice, Roaches, Silverfish, Black Widows, Ticks, Wasps, Water Beetles, Bees, Sow Bugs, Carpet Beatles, Skunks, Opossum, Raccoons and Yellow Jackets. A Southern California Bird Service company and Hidden Valley local pest control company.
-24 Hour-
-Same Day Service-
-7 Days A Week-
-Licensed, Bonded & Insured-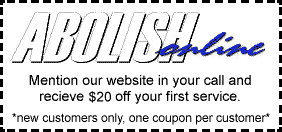 Please print and hand this coupon to a technician
When you call Hidden Valley Pest Control, you call professionals.
Call toll free 877-4ABOLISH
877-422-6547

Voted #1 Pest Control Company!



* Pigeon Hazard
* Pigeon Removal
* Infestation Pictures
* Testimonials
Killer Bees!
protect yourself.
* Bee tidbit - 1
* Bee removal pictures
Specialists for:
Fleas, Pigeons, Ants, Roaches, Crickets, Earwigs, Bees, Ticks, Silverfish, Wasps, Black Widows, Rats, Mice, Gophers, Carpet Beetles, Water Beetles, Sowbugs

- Senior Discounts
- Industrial
- Commercial
- Residential
- Apartments
- Licensed
- Bonded
- Insured
---
Home | Specials | Commercial | Residential | Service Area
Peparation | Pests | Feedback | Contact Us
Absolutely no rights of distribution by sale or other transfer of ownership or by rental, lease or lending, preparation of derivative works, or reproduction, in whole or in part, is not granted. No text, graphics or photos may be downloaded and used on another Internet site, without express permission of AbolishPestControl. For information on obtaining photo usage and rights, please see our contact page. AbolishPestControl reserves the rights to actively protect against infringement. Copyright ©1985 - 2011 AbolishPestControl.com - HiddenValleyPestControl.com All Rights Reserved